How The Trueback Works
TRUE BACK is natural, drug free, convenient and affordable. Treatments take only a few minutes and can be performed in the comfort of one's home, office or workplace.
This video shows how it works to relieve your back pain.
TRUE BACK is officially listed as an orthopedic traction device. TRUE BACK relieves the body of daily stress, tension and discomfort.
TRUE BACK has an enduring effect unlike some other devices such as magnets and hot and cold packs.
The unique patented design of TRUE BACK is quite simple; while laying on the device the spine floats in the center channel. The thirty suspension points molded into the center rails support your body weight and create pressure to the muscles which are located each side of the spine. The pressure enables the muscles to relax. The end result is something you have to experience to believe.
How to Use True Back
Place True Back on the floor and use as shown below.
Treatments take 3-5 minutes in each direction.
That's all, it's that simple!
Position 1, Upper back and Neck Pain: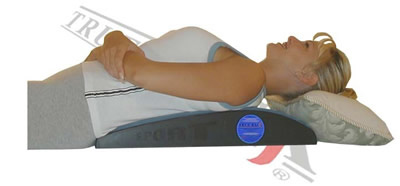 (Please note: pillow is for demonstration purposes only and not the actual pillow)
Turning the True back around with the higher end towards the base of the spine creates traction to the middle and lower back, which leads to relief from middle back pain and lower back pain.
Position 2, Lower and Middle Back Pain: